Auto Repair and Tire Service in Fargo, Bismarck, Watford City, Wahpeton, and Carrington, ND
OK Tire Stores are primarily a distributor of tires and tire related products and services, Tires featured include Multi-Mile(private label brands), General, Michelin®, Sumitomo, Bridgestone, Firestone, and Kleber. OK Tire also manufactures Bandag retreads at its Fargo location. Fargo is also the location of the main distribution warehouse. Most stores provide auto and truck mechanical services and alignments.
The following are some significant dates in OK Tire history:
• January 1960: OK Tire Store Incorporated in Fargo
• May 1961: John and Rose Ohnstad acquire OK Tire Store
• June 1966: Jim Ohnstad begins his employment
• June 1979: OK Tire Store starts its first branch operation in Bismarck
• February 1983: Acquired our Carrington retail and commercial center
• May 1987: Acquired the Minot AC Delco parts store
• April 1995: Tire Store in Minot opens
• April 1997: Open commercial center at I-29 and 12th Ave N in Fargo
• January 2000: New Bandag shop on Fargo Main
• July 2000: Motley, MN wholesale warehouse opens
• May 2002: Bismarck commercial center opens
• May 2003: Grand Forks AC Delco parts store opens
• July 2008: Minot Tire Store moves to new location
• April 2010: We celebrated our 50th anniversary
• August 2010: Bismarck AC Delco parts store opens
• January 2011: Moved Bismarck retail store
• September 2013: Watford City retail and commercial center opens
• December 2013: Bismarck distribution center opens
• January 2014: Became an ESOP
• December 2015: Warehouse at Fargo Commercial Center added
• May 2017: Wahpeton retail and commercial center opens
• January 2018: Opened our TIA-certified tire technician training center
• September 2019: New Fargo Retail store.
• December 2019: 100% employee-owned.
• 2020: 60th Anniversary
• June 2020: Elite Tire & Service added
• October 2023: Ok Tire acquired Wholesale Tire of Faribault, MN
• October 2023: Ok Tire acquired Wholesale Tire of Morristown, MN
• December 2023: Ok Tire acquired Todd's Tire of Crookston, MN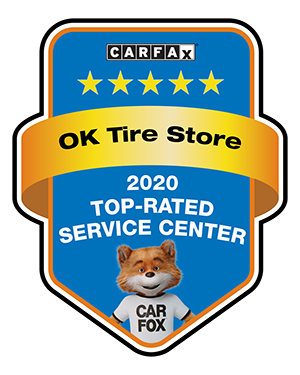 Meet The Team
Leadership Team
Dana Sand
CEO
Chad Kost
Business Growth & Development Manager
Shawn Eggermont
Sales Manager
Therron Kallander
Controller
Sam Grantham
Public Relations Specialist
Dave Butler
HR Manager
Jesse Wiemer
HR Assistant
Mckenzie Cargile
HR Generalist-Recruiter
Jeff Schmidt
Commercial Sales Manager
Alyson Martin
Retail Sales Manager
Store Managers
James Olson
Commercial Center Manager Bismarck
Les Cabler
Carrington Location Manager
Nate Barth
Location Manager Wahpeton
Jake Christiensen
Fargo Main & Fargo South Retail Store Manager
Brad Sterup
Operations Manager
Mike Hamilton
Fargo Commercial Center Manager
Wade Strilcov
Location Manager Minot
Brian Goltz
Location Manager Motley
Matt Indvik
Location Manager Watford City (Retail & Commercial)
Kyle McKibben
Bismarck Retail Location Manager
Wayne Downer
Retread Plant Manager
Josh Kessel
Williston Elite Tire Store Manager
Lynn Miller
Faribault Location Manager
Brian Kohnert
Morristown Location Manager
Other Team Members
Mark Unruh
OK Tracks Solutions Track Manager
Jase Peterson
Assistant Track Sales Manager